Our specialty is
Consistent build-to-order manufacturing system.
For those looking for a high quality prism or high precision mirror
We are a manufacturer specializing in the processing of glass optical components that continues to support a part of the japanese optical industry such as medical, optical, communication, and measurement.
To meet the needs of customers, we take consistent build-to-order manufacturing style.


Material procurement to processing
Leave it all to us!
Benefit of integrated
build-to-order manufacturing
Point1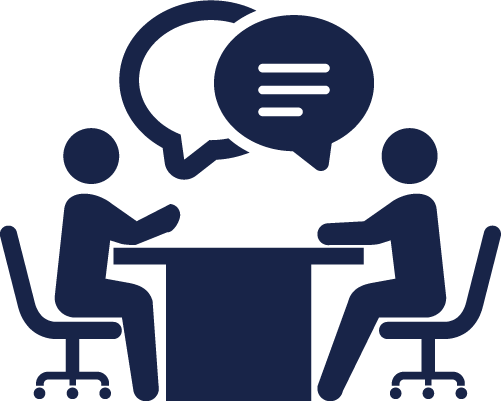 Consultation availableDue to integrated management, we can quickly resolve the optimum manufacturing method, cost, schedule, etc. according to your request.
Point2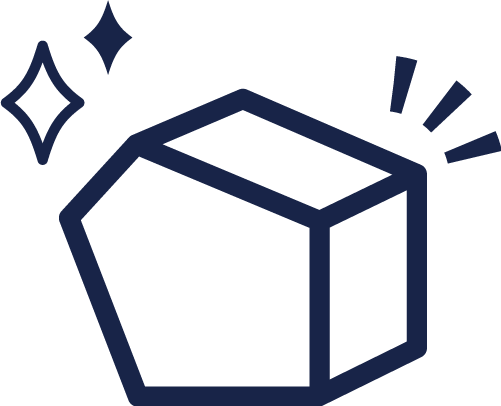 Precision machining
capabilityAcquired original processing technology with processed data and technical capabilities accumulated in-house.By sharing information make available stable production capacity even for difficult processing.
Point3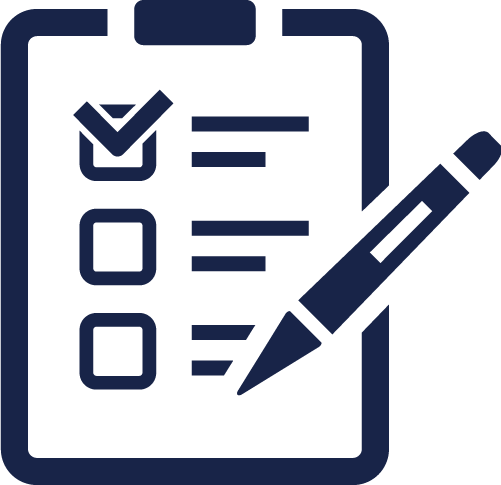 Quality assuranceA strict quality inspection program can be implemented in each process under internal control.
therefor thorough quality control is possible to prevent defects from occurring or outflowing.
Point4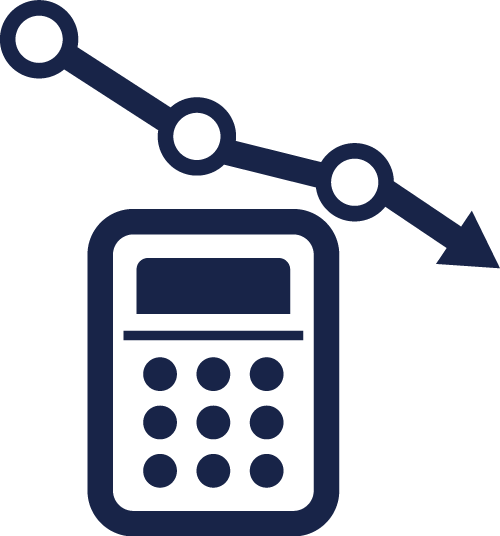 Fast delivery /
Cost savingWe will be an optical component supply partner that minimizes the burden of delivery adjustment and transportation / management costs required by customers after placing an order.
Morita's prism to the world !
First Established in Toyohashi City in 1951 "Morita Optical Lens Mfg. Co., Ltd."Since the beginning, we have mainly manufactured "polo prism" and "declination", which are the main parts of optical products such as microscopes, binoculars, and telescopes.We have been manufacturing of products part that you may have touched at least once in your life time.Eventually, due to the evolution of optical products, we started making the porro prism "dach prism".Furthermore, in the manufacturing process, in addition to grinding and polishing, we have established processing technology for thin film coating, prism cementing, and also black painting to prevent ghosts.In this way, Utilizing the manufacturing technology cultivated over many years, we are currently providing advanced microfabrication technology in a wide range of optical equipment fields such as surveying instruments, medical care, communications, and semiconductor manufacturing.While contributing to the development of the japanese optical industry, we will expand the market to overseas.
About us
Company name
MORITA OPTICS CO.,LTD
Capital
126,000USD(2021.OCT)
Established
1974.APRIL26th
CEO
Tetsuo Kozaki
Business content
Manufacture of optical prisms, reflection mirrors and parallel plane substrate
Location
33-244TameSemikawa ToyohashiCity440-0021 Aichi,Japan
Telephone number
+1-532-61-2341
Fax number
+1-532-61-2343
Number of employees
47
Others

Obtained ISO9001 certification
(Authentication registration number:10572)
Obtained ISO14001 certification
(Authentication registration number:10782)
DUNS number acquisition: 693430456
Management policy
Morita's prism to the world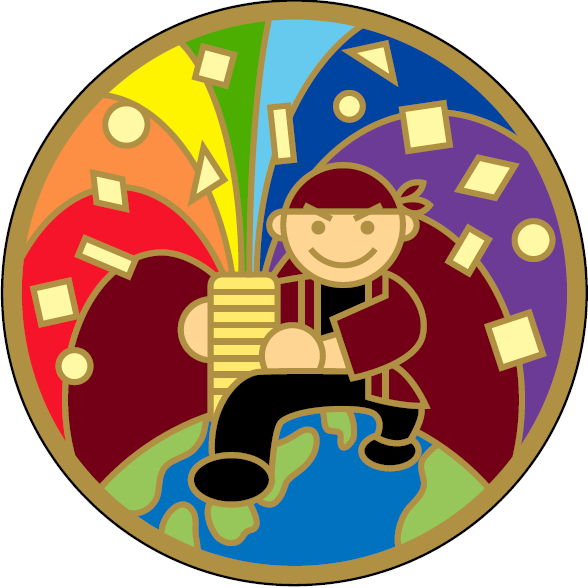 "Harmony"
Do this with good health,
sincerity and effort.
Recognizing that being able to contribute to society is the greatest reason for our existence,
we have "creativity" "effort" and "harmony".
While improving our technology, we will consider all aspects and provide products that satisfy our customers and society.
Quality policy
Providing products that contribute to society through the manufacturing business of optical prisms, reflective mirrors, and parallel plane substrate,We will strive to improve quality performance and customer satisfaction, develop as a trusted company and promote the following matters.
1
By continually improving the quality management system and increasing its effectiveness, we will maintain and improve quality and provide products and services that satisfy customer requirements.
2
In order to ensure compliance with laws and regulations and customer requirements, we will increase awareness and fulfill our compliance obligations.
3
To effectively promote the achievement of quality goals and improve quality performance,The following matters will serve as a framework for goal setting and review.
Increased productivity
Improving operational efficiency
Reduction of business nonconformities
Reduction of loss costs
Environmental policy
Understanding the impact of business activities on the environment through the manufacturing business of optical prisms, reflective mirrors, and parallel plane substrate Striving to protect the environment and prevent pollution, also continuously improve the environmental management system,We are aiming to improve environmental performance and develop our business by ensuring compliance and promotion of the following matters.
1
We will comply with the regulations of environment-related laws and regulations and other requirements accepted by our company.
2
In order to achieve the management policy, we will inform all employees of this environmental policy and provide it to the outside and the general public.
3
For effective promotion toward achievement of environmental goals and improvement of environmental performance,The following matters will be a framework for goal setting and review.
Increased productivity
Improving operational efficiency
Promotion of energy saving and resource saving
Appropriate management of chemical substances
Conflict minerals response policy
4 minerals mined (tantalum,tin, tungsten, gold)in the democratic republic of the congo and its neighboring countries,those "conflict minerals". we care about they are contributes to the funding of armed groups, conflicts, human rights violations, and also the Environmental destruction.With the cooperation of our procurement partners, our policy is not using "conflict minerals" mined and mediated by armed groups.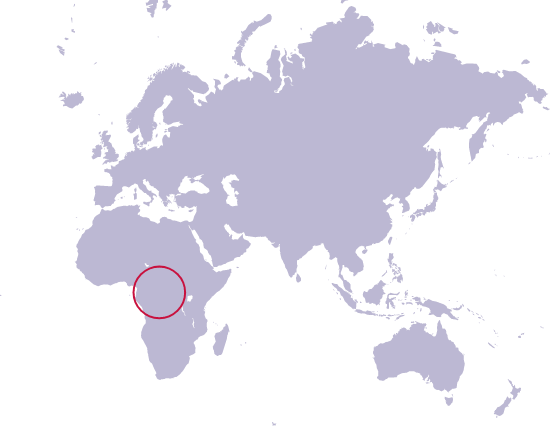 Our products
As a manufacturer specializing in optical parts processing that
"bends light and also separates light".
Morita is a manufacturer specializing in processing optical parts specializing in prisms and plane mirrors.
Aiming to be an optical component supply partner that supports the development of the medical, optical, communication, and surveying industries.We continue to take on the challenge of producing high-quality, high-precision optical parts.
Here's some of our product processing results.
We could also manufacture custom products from one lot, so please feel free to contact us after referring to the specifications of similar products.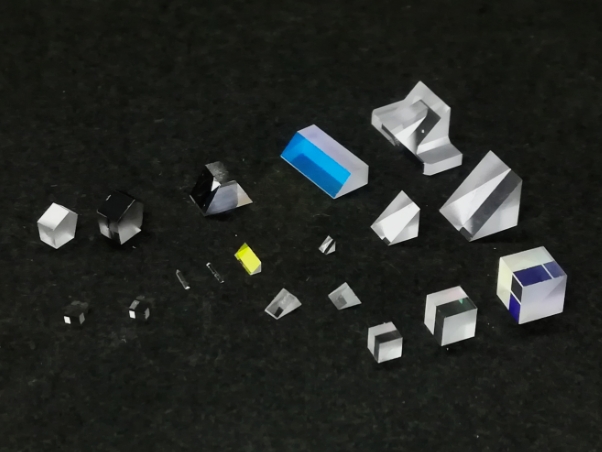 Micro Prism
less than 5.0mm of polished surface (effective diameter dimensions) product.We aim to contribute to the evolution of the high-capacity and high-speed communication industry by using optical fibers.Also aiming to contribute by downsizing the optical elements that correspond to the miniaturization and high performance of medical equipment such as endoscopes.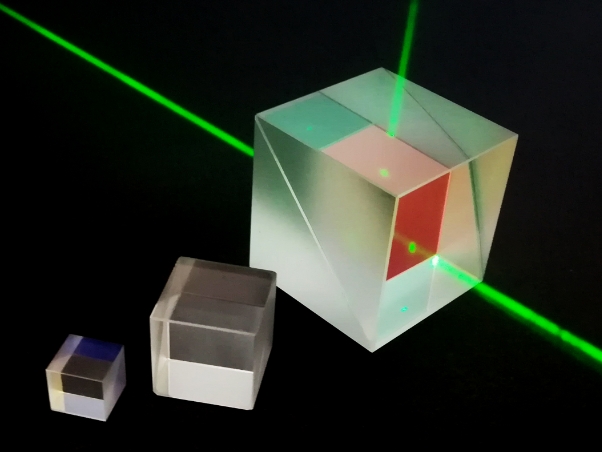 Beam Splitter
It's an optical component that divides incident light into two types of light, transmitted light and reflected light, at a predetermined division ratio.It is coated with a dielectric multilayer or metal film that is optimal for the purpose, such as the division ratio.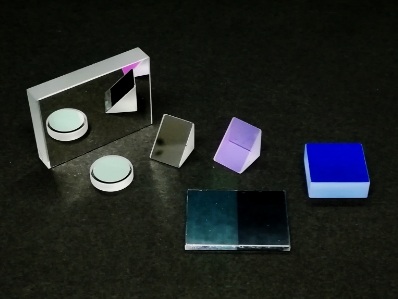 Mirror
We are accepting the manufacture of thin mirrors, flat mirrors, prism type mirrors, etc.We could vapor deposit the silver, aluminum, enhanced reflective aluminum, and dielectric multilayer are on the glass surface that has been polished with high precision by us.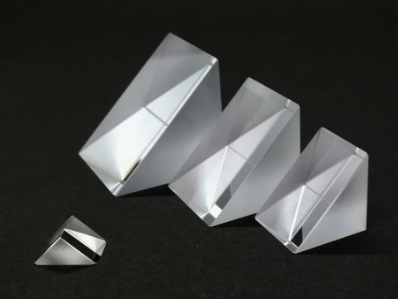 Right Angle Prism
We would make 45 ° right angle prisms of optical glass such as BK7 it size from 5.0 to 100 mm.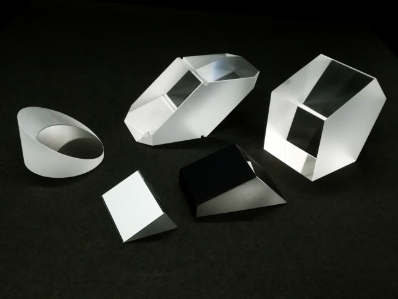 Declination Prism
To deviate the optical axis in any direction we manufacture penta prisms, pecan prisms, rhomboid prisms, and wedge prisms.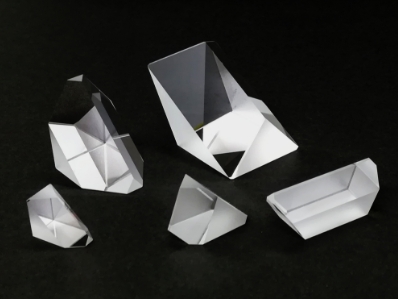 Roof Prism / Dach Prism
We could manufacture of the roof prisms with high-precision knife edge processing such as amici prisms and schmidt prisms.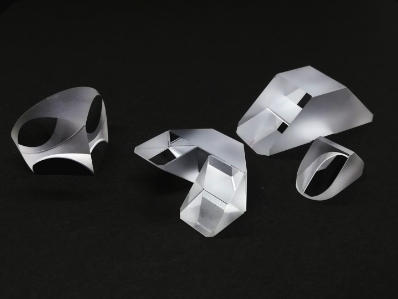 Prism Special type
In addition to prisms such as porro prisms and corner cubes, we also manufacture multiple cemented prism.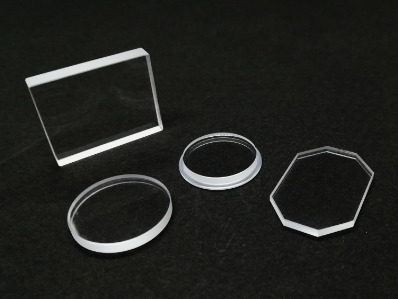 Substrate/Window/Filter
We manufacture parallel plane substrates with a parallelism of 5 seconds and optical flats with a surface accuracy of λ / 20.
Production process
Thorough quality assurance system
with integrated build-to-order manufacturing.
Thorough quality assurance and production system to establish product provision that satisfies customers.
We carry out integrated build-to-order manufacturing processes from material arrangement to outer shape processing, polishing, vapor deposition, cementing, cutting, and black painting.
1
Material procurement: Optical Glass
Procurement of BK7, Bak4, synthetic quartz, crystal.Float glass, blue plate, white plate, which are mainly used as substrate glass materials and also we handle other high-refractive materials.We have direct transactions with material manufacturers, and also support glass production lot management (pot management).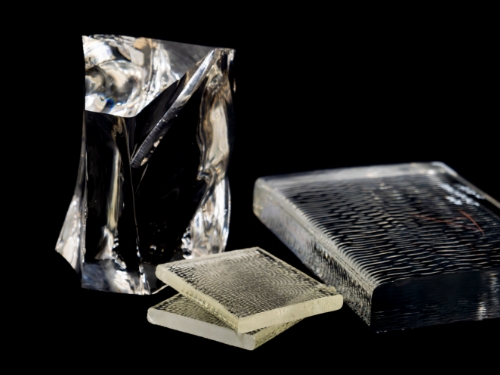 In grinding, the outer shape is processed according to the shape of the prism or mirror to be manufactured.
These roughing processes can be roughly divided into machining and processing by handrails by skilled workers.
It is possible to process multiple shapes such as cylindrical type, right angle type, declination type, and also hexagonal type.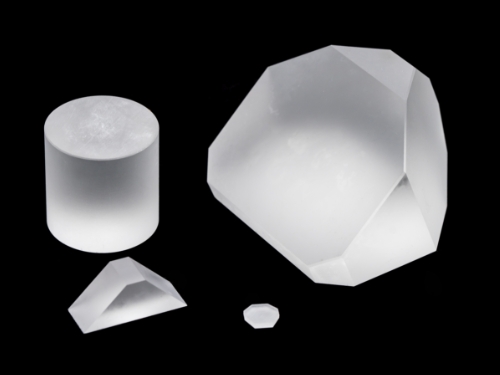 In the polishing process, optical prisms and mirrors are processed to the product specification accuracy.
With oscar polishing machines, double-sided polishing machines, lapping machine polishing machines, etc., it is possible to handle polishing from extremely small prisms of 1 mm or less to 100 mm size product. from trial product to mass production.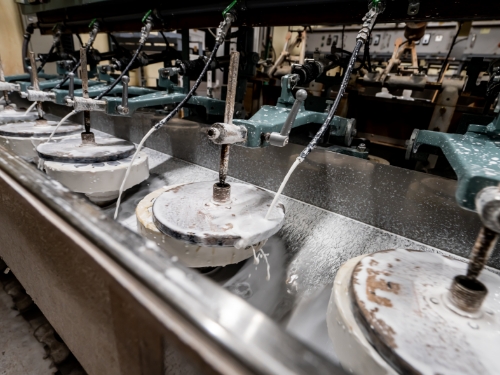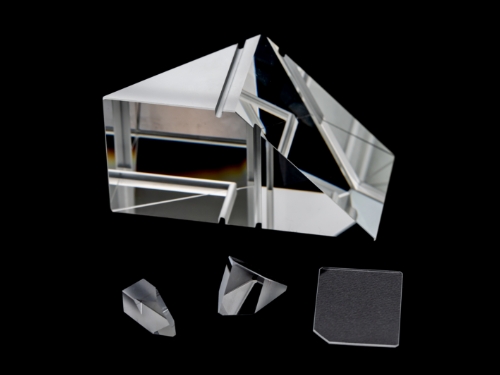 We have skills of a vapor deposition process that can be applied to various prisms such as AR (anti-reflection film), metal film mirrors, half mirrors, and dielectric multilayer such as dichroic mirrors.
Special coats such as a phase coat that reduces the phase shift and also a magic mirror (hybrid coat) in which different coats are layered also correspond.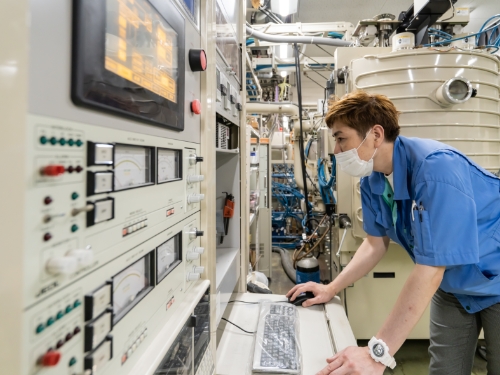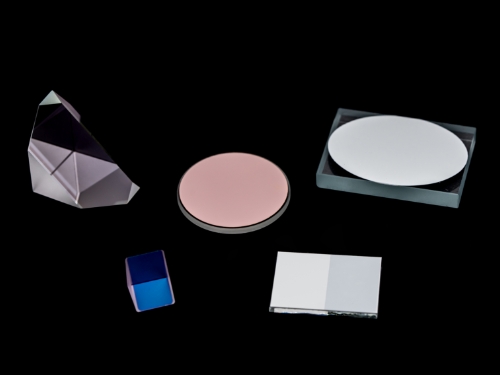 Not only 2 pieces PBS cementing but also cement multiple prisms such as 3 pieces cementing available.
Mainly performing epoxy and UV cementing.
It is also possible to cement air gaps and bond fixing brackets to parts such as prisms.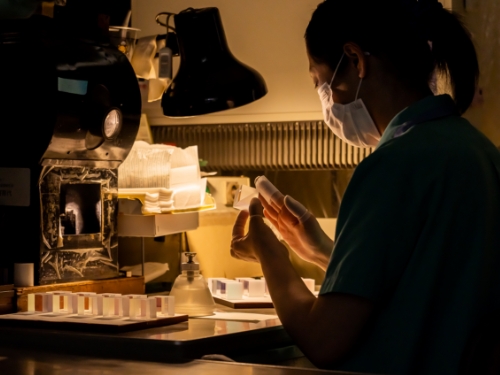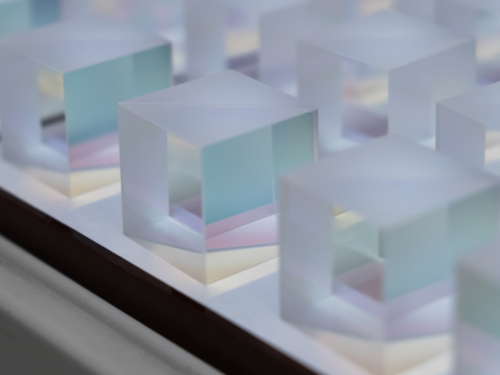 The size can be cut from 1 to 150 mm and the thickness can be cut up to 20 mm.
With a diamond blade cutting, chipping can be suppressed to 0.1 mm or less.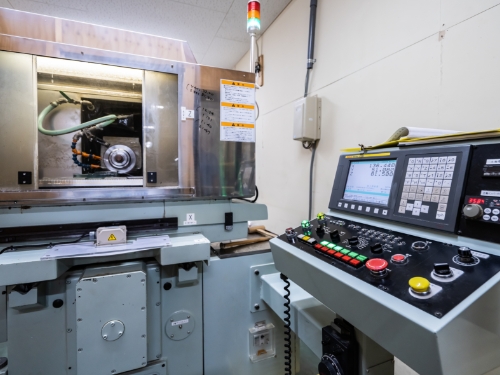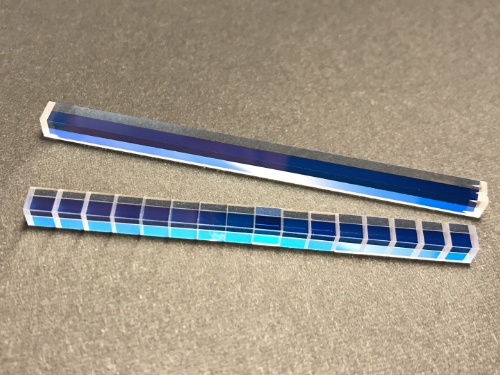 We perform black painting and groove painting such as anti-reflection, anti-ghosting, and protective film processing.
[Paint used] Polydor, GT7Ⅱ, GT2000